About Health School
Health School teaches lay people and practitioners,
Professional Kinesiology, Foundation & Diploma Courses.  
Accredited by the Kinesiology Association.

I am dedicated to sharing information, tips, techniques, courses and programmes that will be helpful for your health.  Health School offers information whether you want:
a tip,

a Taster Talk

to train more formally to help family and friends,

or to do it professionally.
I am also very proud that my courses are done face-to-face, you are in the classroom with me.  It is a body therapy, so I feel it is important for personal contact is present.  I also am growing an affection for technology and it being an arm in supporting my students with online support calls and tutorials during the Diploma.  My way of teaching involves presentations, demonstrations, workshopping and questions.
---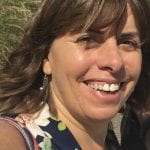 So, who am I?
Well my name is Rosemary Tarrant, born & raised in Ireland, moved to London and lived there for 17 years and then in 2003 I moved up to the Scottish Borders which I love.  I started my training in Kinesiology in 1998, qualified in 2001 and set up my business first in Surrey and then a second time in Scotland!!!
---
Hobby or Professional – Health School Covers It
The techniques and courses I teach are dynamic and easy to learn,  Some may take practice and learning about the body so yes, you will have to do some study.  But would you really appreciate it if a certificate was handed to you and you felt you had done very little to earn it.
We all learn in different ways, as a teacher I aim to bring out the best in each of my students to encourage you in sharing your gifts with the other students and with the other people in your life.  The techniques you learn will help you:
develop your confidence,

belief in yourself,

enable you to go out there and build a business if you wish to.

oh and if I haven't said before, Kinesiology is incredible to do wondrous things with your health.
I share the information in a variety of ways as everyone learns in their own way.  Sharing by demonstration and observing you in work-shopping periods will probably always be my favourite way of teaching, however, technology is advancing and creating new, exciting and dynamic ways of getting information across.  I am doing my best to learn as much as possible about this to also be able to share that way as well.  This is definitely a learning curve for me and is getting me to expand my comfort zone.
Teaching for me is very much a learning process too which is just as well as I am a  life-long learner.  Learning starts in my head, once I get more confident, it moves to my heart and sits there for a while and then when competence and confidence starts entwining the flow happens and it comes through my hands.  I hope this will happen for you too as I think it makes for the best kind of practitioner.
I so look forward to meeting you online and hopefully soon in person at one of the courses. 
Health Through Your Head, Heart and Hands.
Ful course information is available in the downloadable prospectus: