Kinesiology Diploma Course – 12 Modules
Dates Confirmed for 2022/2023
9 – 10 May,
13 – 14 June,
11 – 12 July,
15 – 16 August,
12 – 13 September,  
3 – 4 October,  
31 Oct – 1 Nov,  
28 – 29 Nov,
2023:  
7 – 8 February,
6 – 7 March,
3 – 4 April
Using the newly updated curriculum, revised in 2020, I am delighted to offer the FULL Kinesiology Diploma. This enables you to use the Accredited Diplomate status (Dip KA) after your name once you have fully completed the course, assessment and required homework.  This is accredited by our governing body, KA (Kinesiology Association) and enables you to become a fully qualified Kinesiologist. This diploma complies with and exceeds the Kinesiology National Occupation Standards (KNOS) as outlined by KA.  Since 2021, it is also accredited by the CNHC (Complementary and Natural Healthcare Council)
What is Included in the diploma course?
12 weekends (or 24 full days) of class training including
Access to your tutor for support between the class training
270-page comprehensive colour manual and additional handouts to supplement techniques
Student handbook book
Water and refreshments throughout the training weekends
A final multiple choice exam
A practical assessment from a trained assessor (not your tutor)
Associate level membership of the Kinesiology Association for 12 months
Access to online support training material including informative and educational videos
Regular newsletters / updates including access to seminars and webinars
The Diploma course is, without doubt, a WOWZER of a course. It is an information packed set of 12 modules, one if you are serious about practicing professionally should be undertaken.
NB: KA stipulates that Students who have successfully completed a diploma course but have not yet completed the anatomy and physiology course and/or the nutrition course and/or the first aid course are qualified to use the title Certificate of Advanced Kinesiology. (Cert. KA). Once all these are requirements are met, you can then use Dip KA and will be registered on the KA website as that category as long as you keep up your membership.
Prerequisite for study for students: Kinesiology Foundation course level 1 – 6 (Modular or Intensive Foundation)
Below is a small selection of some of the modules to get those creative learning juices going, you can find the rest of the modules in the downloadable prospectus.
---
Prepare to expand your knowledge in a sensational way.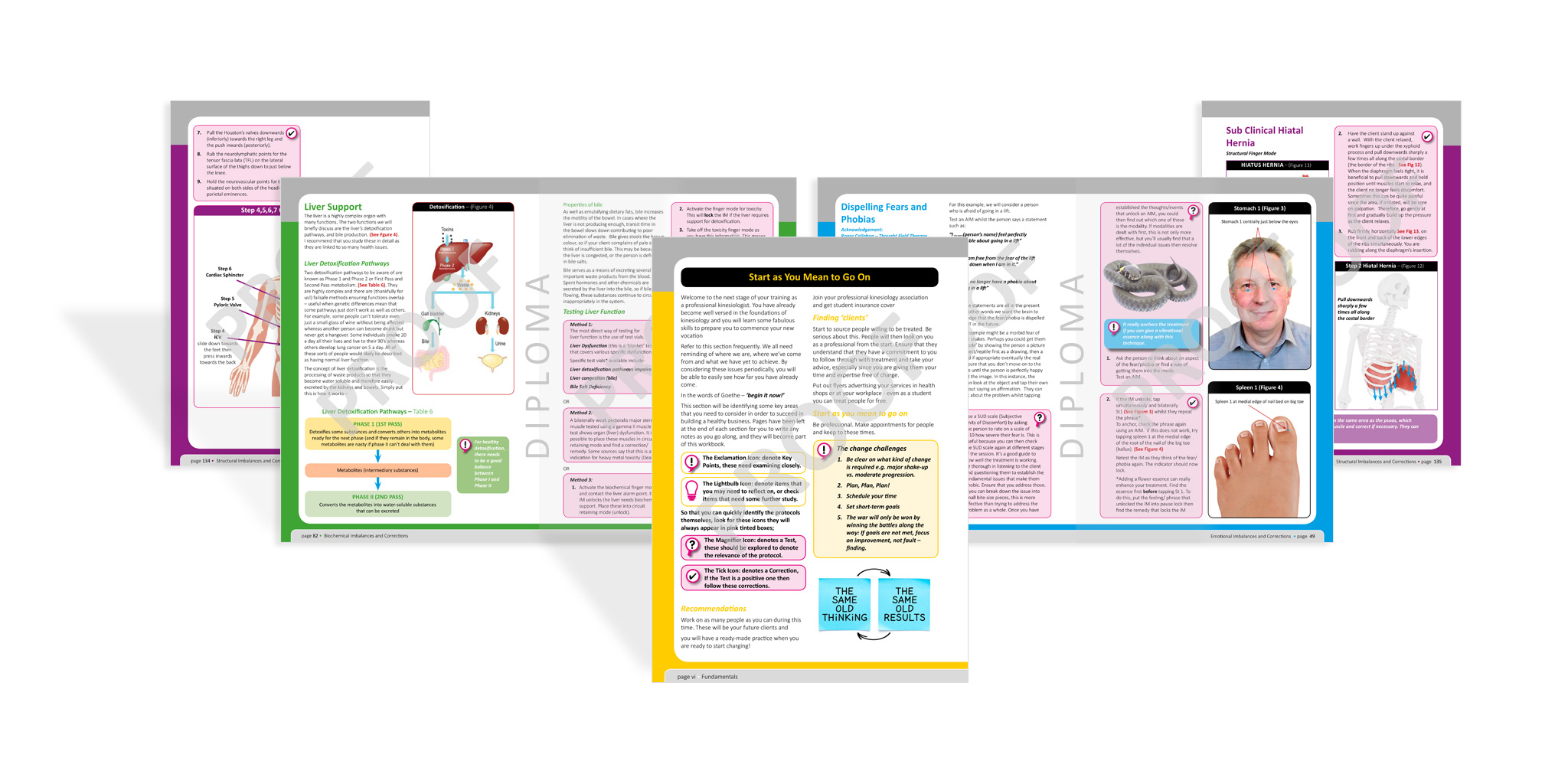 ---
MODULE 2 & 3 – Two Days Each Module
A module combining Emotional, Electrical and Chemical techniques. This is a great reminder of how all aspects of the body has an effect on others.  This is a beautiful module that can bring about massive shifts of energy.  Prepare to ring in the changes.  Techniques include:
Psycological Reversal, Eye Rotations, Verbal Challenges, Using Alarm Points for Emotion
Self-Esteem & Self-Talk, Temporal Tap, Phobias and 9BP, Emotional Bruising
Chakras & Aura Leaks, Riddlers Points, Hypochlorhydria & Digestive Insufficiency
MODULE 4 – Two Days
So you can take it that this is getting to the "guts" of the Diploma. (Pardon the little joke, if you are one of my students, you will get used to them!). The Gut, otherwise known as the Bowel, Large Intestine, the Colon, is looked at thoroughly joined by some of its friends.  One of the techniques taught this weekend – the Ileo-Caecal Valve is an extremely common condition and can be a causative factor in a long list of symptoms. If you want a healthy body, this can be the foundation for so many people.  Other techniques include:
Looking at Test vials & Double checking findings,  Carbohydrate (CHO) Intolerance Tests, Ileo Brake Challenge, Various Digestive Disorders,
Contraindications of Nutrition, Herbs, Drugs, – Number & Timing of Supplements
Past Trauma Recall, Energy Mismatch, Atlas, Psycological Reversal & Food Intolerance
MODULE 5 – Two Days
Toxicity, detox pathways, the liver and other elimination pathways are the focus of this module. Little friends who like to start a party in the body eg. parsites, yeasts and bacteria will also be investigated.  We also look deeply at the Endocrine system and the hormonal imbalances that can occur and what we can do for them.   We have given the endocrine glands their own column here but they are very chemical in nature but MCPE will still be valid as always.
All the Endocrine Glands
Chemical Techniques linked with the Liver & Toxicity, Detox Pathways, Kidney, Lung, Colon Support, Heavy Metal Toxicity, Fungus, Parasites, Viruses & Biofilms, Hiatal Hernia