Kinesiology Diploma Course – 12 Modules
Dates To Be Confirmed for 2021
Using the newly updated curriculum, revised in 2020, I am delighted to offer the FULL Kinesiology Diploma. This enables you to use the Accredited Diplomate status (Dip KA) after your name once you have fully completed the course, assessment and required homework.  This is accredited by our governing body, KA (Kinesiology Association) and enables you to become a fully qualified Kinesiologist. This diploma complies with and exceeds the Kinesiology National Occupation Standards (KNOS) as outlined by KA.  Since 2021, it is also accredited by the CNHC (Complementary and Natural Healthcare Council)
The Diploma course is, without doubt, a WOWZER of a course. It is an information packed set of 12 modules, one if you are serious about practicing professionally should be undertaken.
NB: KA stipulates that Students who have successfully completed a diploma course but have not yet completed the anatomy and physiology course and/or the nutrition course and/or the first aid course are qualified to use the title Certificate of Advanced Kinesiology. (Cert. KA). Once all these are requirements are met, you can then use Dip KA and will be registered on the KA website as that category as long as you keep up your membership.
Prerequisite for study for students: Kinesiology Foundation course level 1 – 6 (Modular or Intensive Foundation)
Below is a small selection of some of the modules to get those creative learning juices going, you can find the rest of the modules in the downloadable prospectus.
---
Prepare to expand your knowledge in a sensational way.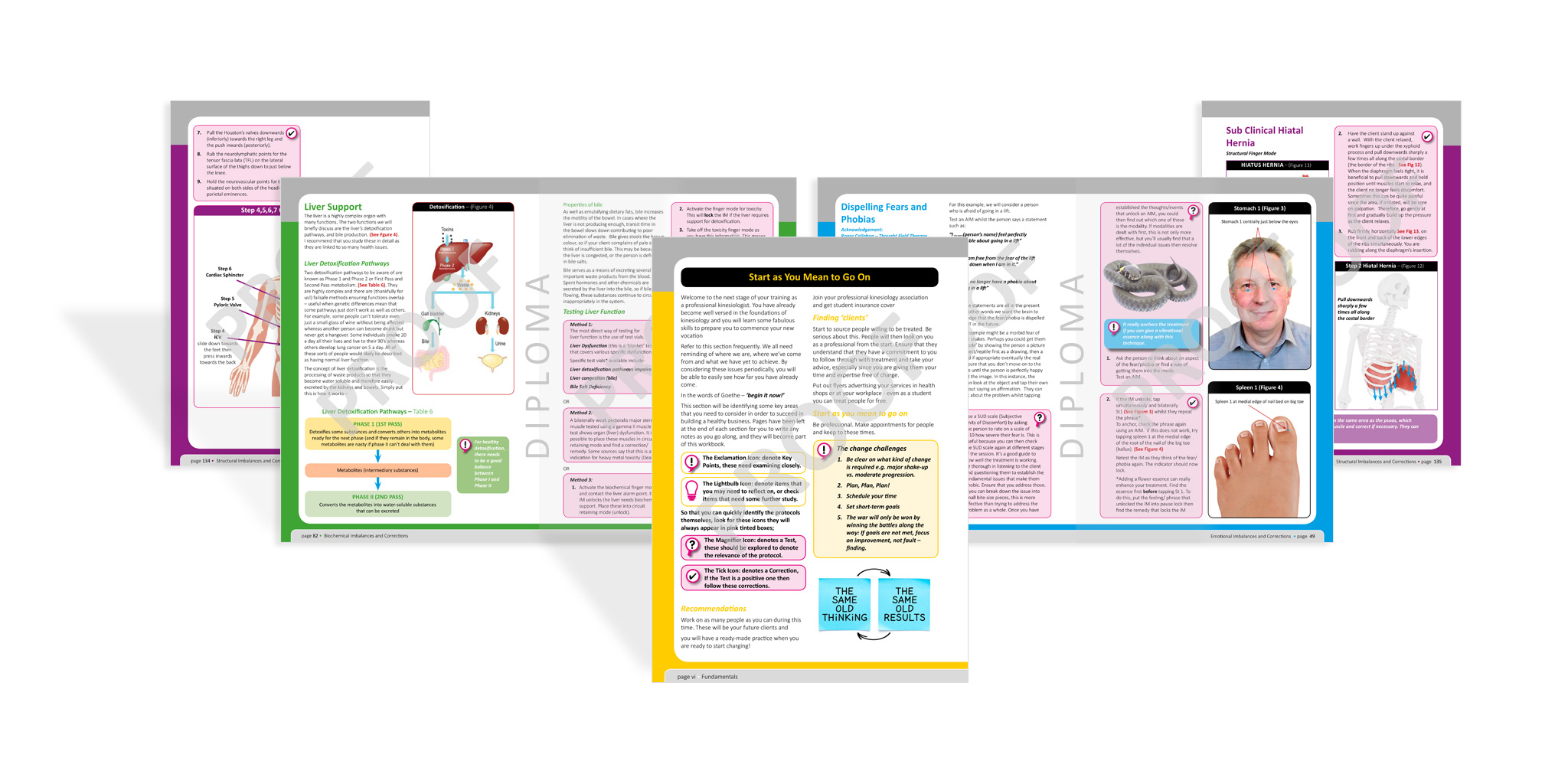 ---
Module 1
This module is rich in techniques helpful for you to develop as practitioners and then to use with your clients. Breaking old habits and worries will be looked at and many techniques will be learned. There are also some lovely centering grounding techniques which are so helpful to keep you healthy as a practitioner. We also review and consolidate aspects of the Foundation Course plus tremendous ways of releasing past and present injuries both physical and emotional.
Self-help
Self-Esteem
Self-talk
Subconscious Self-Sabotage
Positive Self-Talk & Law of Attraction
Changes, Choices & Common Fears
Balancing affirmations using:
Eye Rotations
Temporal Tap
Psycological Reversal
Phobias and PR
Emotionally Reacitive Memories
Injury Recall
Gamma 1 and Gamma 2 muscle Testing
Integrated Approach
Breaker Switches & Centreing.
Cloacals
Hyoid and Gait
Hypertonic Muscles
Pulse Synchronisation
Shealey's sacred Rings-Ring of Earth
Spondylegenic Reflex to the Diaphragm
---
Module 4
So you can take it that this is getting to the "guts" of the Diploma module. (Pardon the little joke, if you are one of my students, you will get used to them!). The Gut, otherwise known as the Bowel, Large Intestine, the Colon, is looked at thoroughly joined by it's friends the pancreas, the vagus nerve and the associated problems these areas of the body can develop. Little friends who like to start a party in this part of the body eg. parsites, yeasts and bacteria will also be invesigated.   One of the techniques taught this weekend – the Ileo-Caecal Valve if malfunctioning is an extremely common condition and can be a causative factor in a long list of symptoms. If you want a healthy body, this can be the foundation for so many people.
Overview of digestion
Gut in dysbiosis
The second brain and the vagus nerve
Vagus nerve balancing
The gut microbiome
The gut – chinese medicine
Common problems associated with the gut
Steps to wellness
Candida and parasite finger modes
Human microbiome project
Probiotics
ICV
Ileo brake challenge
Gastric colic reflex
Fluctuating blood sugar
Normal response to blood glucose levels
Metabolic syndrome X and insulin resistance
GI / GL load
Herxheimer reaction
CHO intolerance testing
Notes on health issues related to the gut:
Hypochlorhydria
Hiatal hernia
Heartburn:
Hypochlorhydria
Helicobacter pylori
SIBO
Coeliac
Non celiac gluten sensitivity
Crohn's disease
Ulcerative colitis
Diverticulitis
Irritable Bowel Syndrome – IBS
Bristol stool chart
Leaky gut
Candida
Parasites
Bacteria
---
Module 8
Light, Music, Essences, Crystals, Colour, Acupuncture all combine to give a beautiful weekend of vibrational techniques. Although some of the information will be new to you, this is also a lovely weekend where you can think more creatively with your muscle testing. It's a joy to teach and one I love dearly.   This information will become part of your every day work with people.
Vibrational Medicine
Subtle energies
Increasing energy awareness
Helping to keep your own energy's in balance
Self NL massage for energy
Relaxing with ROYGBIV
Higher vehicles
Navel testing for over energy
 5 finger test for meridian imbalances
Pre-stressing
Emotions, acupressure and the Large Intestine
Acupuncture and the emotions
Aura and aura leaks
Crystals
Music
Harmonics
Chakras revisited
Bach Flower Remedies
Homeopathic remedies
Magnetic energy
 Lasers
Switching – extra
Symbolic Metaphors of the Chinese
Five elements – revisited
Checking meridian balance
CX meridian and feeling introverted
Revision: 24hr meridian clock, horary/luo points
Now and then technique
Scars
Full procedure for fine tuning goal balancing